Located 15 Km southwest of the Paradise Peak mine (+1.5M oz Au) and contiguous with the Isabella-Peal mine, a high-grade open-pit heap leach operation. Gold was discovered at Santa Fe in the 70's; Corona Gold produced ~375,000 ounces Au between 1988 and 1992 from an open-pit mine with heap-leach processing. 
Corona was acquired by Homestake Mining in 1992; Homestake completed mine closure and reclamation over the next two years. Homestake was subsequently acquired by Barrick in 2001. Through a series of transactions, Victoria Gold acquired a 100% interest in the project in 2012. The project has been under post-closure monitoring since 1999, a US $300,000 bond is in place with the BLM. Annual holding and monitoring costs are US $100,000. Most of the project is gently rolling hills with excellent access.
Productive open pit mines are related to east-west and northwest trending faults. Exploration and development focused on outcropping gold mineralization with little drilling between the pits.
 The Pinnacle target area is underlain by Miocene volcanic rocks and is geologically similar to the Isabelle-Pearl Deposit (P&P Reserves: 2.3M tonnes grading 3.05 gpt Au, 18 gpt Ag (220,100 oz Au, 1.2M oz Ag).
19.1 km2  Land Package:
291 unpatented lode mining claims
67 unpatented mill site clams
24 patented lode mining claims. 
Except for 45 optioned unpatented lode mining claims, all mining claims are 100% owned by Lahontan
Past Production:
Open pit mines processed by heap leach.  Reported recoveries were >70% for gold and approximately 30% for silver. Strip ratio for Santa Fe Pit was 1.7, for Slab Pit < 1.
Walker Lane 60-80km wide Physiographic province of northwest Striking faults. Triassic sediments (predominantly carbonates) are intruded by Jurassic to Cretaceous diorite and granite, and overlain by Tertiary volcanic rocks.
Alteration and gold mineralization controlled by NW, NE and EW structures.
The Triassic Luning carbonate rocks are often brecciated, decalcified, silicified and sulfidized. Tertiary volcanic rocks are typically clay altered, sulfidized, and locally silicified.
Generally, Luning Formation carbonate rocks outcrop in the southern half of the property while Tertiary volcanic rocks outcrop in the northern half of the property.
Drilling shows that the BH Zone extends down rake over 350 metres and is open at depth.
Significantly, the drill data also show the presence of multiple parallel zones that require additional drilling.
Based on rock volumes and grades, the BH Zone has the potential to host a +1M ounce gold resource.
The quality and sheer size of the existing database should allow for an updated resource estimate following drilling by Lahontan.
2021 Phase 1A Drilling Results
Early in 2021, Lahontan completed its Phase 1A reverse-circulation drilling program totaling 1,218 meters in and around the Santa Fe pit, highlights include:
188.9 meters grading 1.75 gpt Au and 9.9 gpt Ag in drill hole SF21-001R including 56.4 meters grading 2.78 gpt Au and 17.6 Ag and also including 6.1 meters grading 4.29 gpt Au and 31 gpt Ag. Gold and Ag mineralization starts at the surface and the hole bottomed in mineralized rock.
86.9 meters grading 1.08 gpt Au and 3.7 gpt Ag in drill hole SF21-002R. A complete table of drill results is below.
The first portion of the drilling program was centered on the past-producing Santa Fe pit and had two principal objectives: 1) Verify assay data from historic drilling that outlined substantial gold and silver mineralization below and adjacent to the Santa Fe pit; and 2) Confirm metallurgical domains identified by modeling historic drilling, especially at the margins of the deposit.  Lahontan believes that early results from the Phase One drilling program is already achieving these objectives.
Drill holes SF21-001R and -002R were collared in the Santa Fe pit and targeted portions of the high-grade BH Zone.  Both drill holes intercepted extensive thicknesses of gold and silver mineralization with structurally controlled, higher-grade intervals that characterize the BH Zone as seen in the cross section and plan view to the right. 
The assay results compare favorably with nearby historic drill holes giving confidence in the use of historic data in future resource estimates.  The 0.1 gpt outline of gold mineralization, based on modeling of historic drill holes and shown in red in the cross section above, corresponds with thick intervals of gold mineralization seen in drill holes SF21-001R and -002R. The high silver grades are also similar to historic drill results and previous mine production, underscoring the potential for important silver by-product credits in any future mining operation. 
As part of the systematic organization of the drill campaign, drill holes SF21-003R through -006R were collared at the margins of the known gold and silver deposit to confirm depths of oxidation (metallurgical domains) and test the limits of mineralization. Drill holes SF-003R and -004R both intercepted low-grade gold and silver mineralization: 19.9 meters grading 1.04 gpt Au and 2.3 gpt Ag in -003R and 22.8 meters grading 0.51 gpt Au and 4.5 gpt Ag in -004R.  Unfortunately, drill hole -003R lost circulation prior to reaching its targeted depth. Drill holes SF-005R and -006R did not hit significant gold and silver mineralization, however, when combined with the results from -003R and -004R, these drill holes show that the depth of oxidation below the central and northwest portions of the Santa Fe pit is somewhat deeper than what was modeled using historic drill holes and that extensive volumes of oxidized gold and silver mineralization remain unmined.
2021 Phase 1B Drilling Results
Phase 1B consists of five core holes, totaling 1,421 metres. These core drill holes explored down-rake and on-strike extensions to the high-grade BH Zone and shallow, potentially open pit minable, Au and Ag mineralization southeast of the Santa Fe open pit.  High-grade intercepts from the BH Zone include:
3m grading 2.96 gpt Au and 62.2 gpt Ag (3.79 gpt Au Eq), including 37.3m grading 3.78 gpt Au and 96.1 gpt Ag (5.06 gpt Au Eq), also including 4.9m grading 10.76 gpt Au and 126.7 gpt Ag (12.45 gpt Au Eq) in drill hole SF21-001C.
Highlights from shallow oxide drilling include:
9m grading 0.84 gpt Au and 4.6 gpt Ag (0.90 Au Eq), and 20.7m grading 0.45 gpt Au and 3.4 gpt Ag (0.50 gpt Au Eq) in drill hole SF21-004C.

BH Zone:  Core drill holes SF21-001C, -002C, and -003C all targeted portions of the BH Zone with different objectives.  SF21-001C was oriented to the southeast and angled to test a down-rake portion of the BH Zone and verify continuity of high-grade Au and Ag mineralization similar in tenor and thickness to that seen in historic core drill holes BH-3 and BH-6 drilled by Victoria Gold in 2009 and 2010 respectively. SF21-001C expands the volume and thickness of high-grade mineralization, in particular the 4.9 metre interval of 12.45 gpt Au Eq.  It is important to note the very high Ag grades which characterize the BH Zone, e.g.  0.8m grading 6.98 gpt Au and 201 gpt Ag (95.5 – 96.3m), 1.25m grading 5.17 gpt Au and 309 gpt Ag (131.64 – 132.89m), and 1.61m grading 15.04 gpt Au and 107.2 gpt Ag (176.78 – 179.22m), please see core photos below.  The Company believes that a significant Ag byproduct in potential future mining operations could have an important impact on project economics. The hydrothermal alteration and mineralogy seen in SF21-001C is identical to that seen in previous drill campaigns (Lahontan has all the core, assays, and drill logs from the Victoria core drilling program for comparitive purposes) adding further confidence to the interpreted continuity of high-grade Au and Ag mineralization in the BH Zone.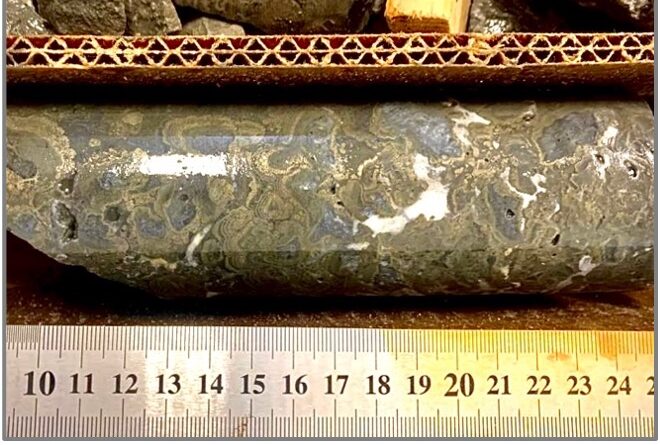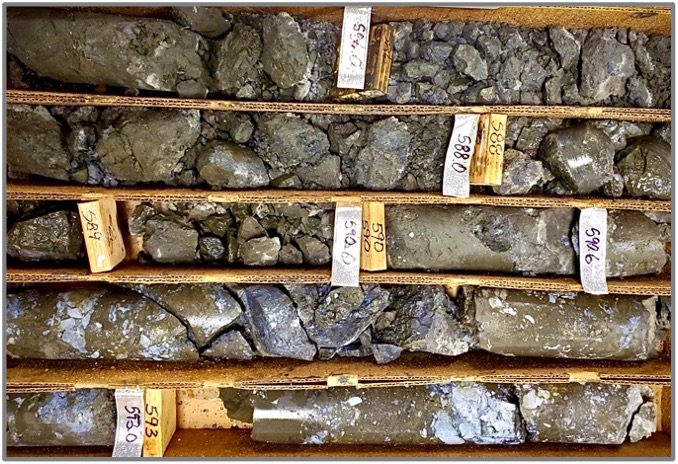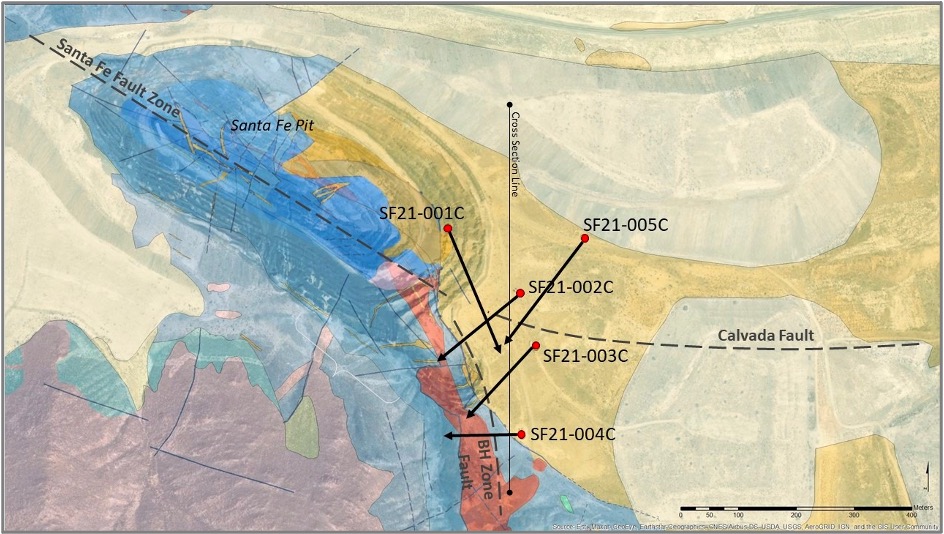 Core drill holes SF21-002C and -003C were collared approximately 150 metres and 245 metres southeast of SF21-001C respectively (please see map above).  These drill holes were targeting high-grade, Au and Ag mineralization up-rake and along strike from the main BH Zone.  The core drill holes hit significant zones of precious metal mineralization: 6.7m grading 2.37 gpt Au and 58.3 gpt Ag (3.14 gpt Au Eq) in SF21-002C (151.2 – 157.9m) and fill in gaps between historic drill holes (please see cross section below).  This mineralization carries the distinctive geochemical signature of the high-grade BH Zone, elevated Ag grades:  1.62 m grading 2.64 gpt Au and 93.9 gpt Ag in SF21-002C (153.62 – 155.24m) and 2.5m grading 2.25 gpt Au and 28.5 gpt Ag in SF21-003C (135.9 – 138.4m).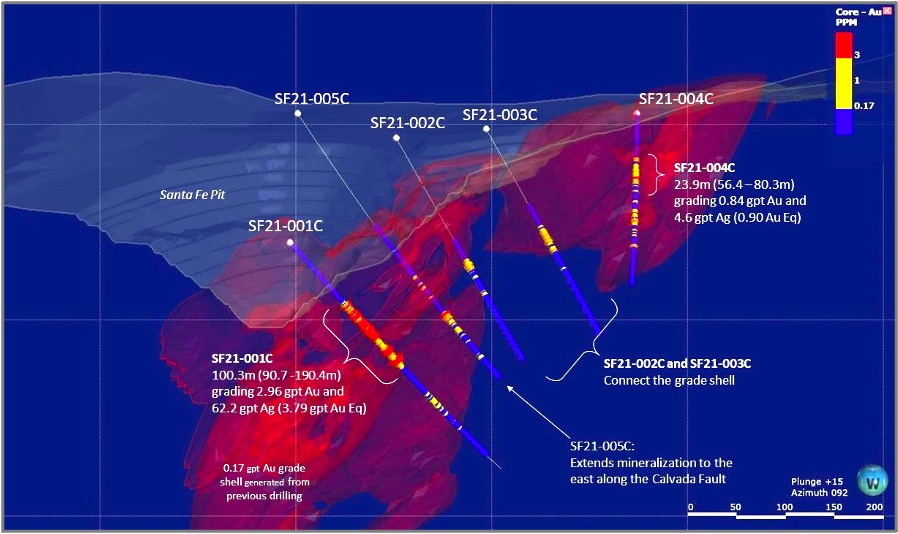 Based on these drill results and modeling historic drilling, it appears that the BH zone may consist of multiple, repeating or cyclic, down to the southeast raking zones, within the Santa Fe Fault and sympathetic structures.  This interpretation greatly expands that target size of the BH Zone, especially given that older drill holes, located hundreds of metres to the south and southeast of SF21-003C have high-grade intercepts that have not been drill tested since the nineties, i.e., reverse-circulation drill hole CSF-89-19 cut 16.8m grading 6.10 gpt Au including 3.3m 11.65 gpt Au. These southeast extensions to the BH Zone have significant, high-grade, resource potential.
Shallow Drilling:  Core drill hole SF21-004C targeted shallow Au mineralization to the southeast of the Santa Fe open pit (please see map and cross section above).  Historic drilling in this area suggested that shallow, potentially open pit minable, Au and Ag mineralization extended into the target area. SF21-004C cut two intervals of shallow, low-grade Au mineralization with grades within the range that was historically mined at Santa Fe.  Importantly, this mineralization occurs in rocks assigned to the oxide and "transitional" metallurgical domains (please see core photo below). The transitional metallurgical domain is characterized as a mixed zone of oxidized and partially oxidized Au mineralization that maybe cyanide extractable.  Several additional reverse-circulation drill holes were completed late in 2021 in the vicinity of SF21-004C, results from these drill holes are expected shortly.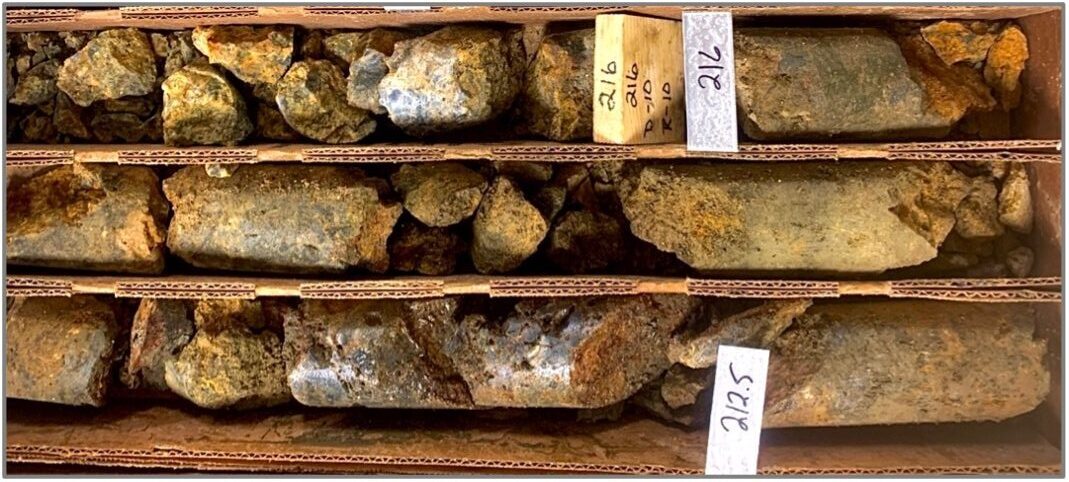 New High-Grade Zone:   Lahontan geologists, utilizing surface geological mapping, modeling of historic drill holes, and structural re-interpretation, developed a new drill target along an inferred east-west trending structure extending from the northeast highwall of the Santa Fe open pit toward the Slab and Calvada open pits located several kilometres to the east.  Core drill hole SF21-005C, collared approximately 170 metres east of the edge of the Santa Fe pit, intercepted a deep, thick interval of Au and Ag mineralization (see drill hole location map and cross section above). Significantly, within this interval, there an important intercept of BH-style mineralization: 8.5m grading 3.13 gpt Au and 37.7 gpt Ag (261.7 – 270.2m), including 1.5m grading 5.11 gpt Au and 57.2 gpt Au (5.87 gpt Au Eq) from 262.8 – 264.3m.  These intercepts have the same mineralogy, hydrothermal alteration, and elevated Ag content that characterizes the BH Zone.  Given the potential strike length of this east-west fault (the Calvada Fault), the high precious metal grades, and the analogy to the BH Zone, this drill hole may represent a new discovery and target area at the Santa Fe Project. Two additional drill holes were completed east of SF21-005C late in 2021, results are pending.
Santa Fe Fault - BH Zone Upside
Pre-mining soils samples, complemented by surface rock-chip sampling, suggest that Au mineralization on the Santa Fe structure extends hundreds of metres southeast of the open pit.
 Drill holes have up to 12.2 gpt Au in the target area, no follow-up drilling.
Newly staked claims cover a portion of this target.
Drilling shows that the BH Zone extends down rake over 350 metres and is open at depth, multiple parallel zones that require additional drilling.
Mineralization as seen in core is identical to that seen on the surface.
Exploration in the eastern portion of the Santa Fe district was driven by surface sampling, very little drilling was done between the Slab, Calvada, and York pits despite the obvious structural relationship between the deposits.
Like the Santa Fe pit, drilling beneath the Calvada pit has outlined a high-grade, down-dip extension to gold mineralization 
Gold in drill holes up to 18.2 gpt, confirms potential for high-grade, structurally controlled mineralization. Targets are open at depth with little drilling along strike.
The Pinnacle target area is host to a large (2,500 by 500m) zone of intense hydrothermally altered and gold mineralized Miocene volcanic rock.
The system is defined by goldin-soil anomalies and rock chip samples grading up to 6.6 gpt Au associated with northwest trending structures.
The target is on strike with the Isabella Pearl open pit gold mine operated by Fortitude Gold.
Isabella Pearl and the Pinnacle Target
The Isabella Pearl mine has P&P Reserves of 2.3M tonnes grading 3.05 gpt Au, 18 gpt Ag (220,100 oz Au, 1.2M oz Ag). The higher grade Pearl zone averages over 4 gpt Au
Fortitude Gold reported 2021 production over 45,000 ounces Au, and projects  LOM cash costs of US$650/ oz Au, excellent heap leach recoveries (>81%)
The Pinnacle target is contiguous with the Isabella Pearl and shares a nearly identical geologic setting and has not been drilled: an excellent opportunity to add resource ounces to the Santa Fe Project.