100% Lahontan Gold via 7 year option agreement
Mineral County, Walker Lane – Nevada
Previous drilling totals over 13,000 metres in 171 drill holes; only five holes are deeper than 165 metres
Bolt On Project With Excellent Resource Potential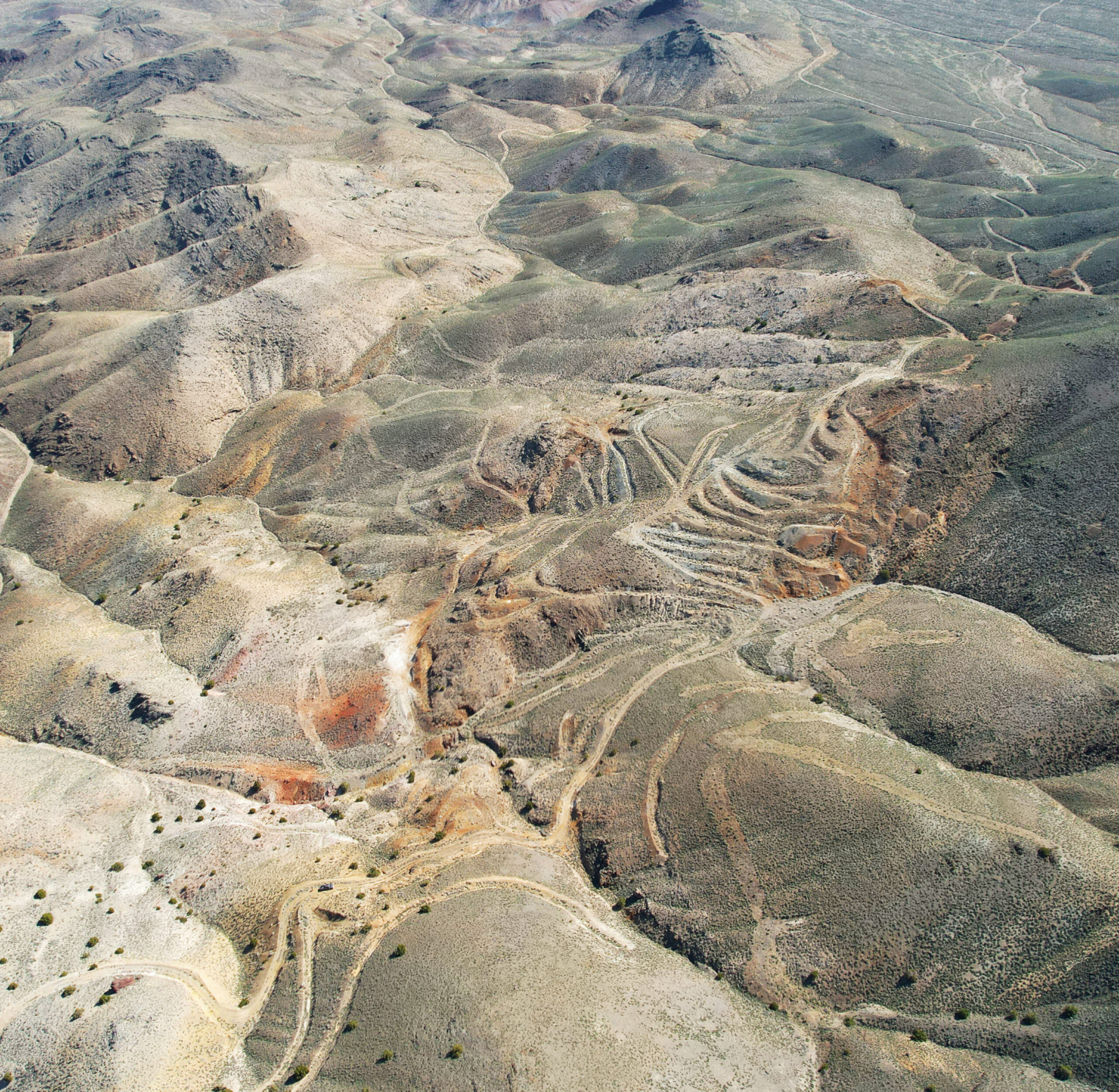 ABOUT

GEOLOGY

EXPLORATION DATABASE
The advanced West Santa Fe gold-silver project is located only 15 km West of the Flagship Santa Fe Mine and hosts an oxidized gold-silver mineralized system in a geologic setting nearly identical to Santa Fe.
Modeling of historical drill hole data by Lahontan geologists outlines a shallow gold and silver system with a sufficient volume to host 0.5 to 1.0M ounces of oxidized gold and silver mineralization in an open-pit mining configuration*
*The exploration target at West Santa Fe is conceptual in nature and is based on the size of the known mineralized zones, and gold and silver grades from historical drilling. The qualified person has not completed sufficient work to verify the historical information on West Santa Fe and this information should not be relied on.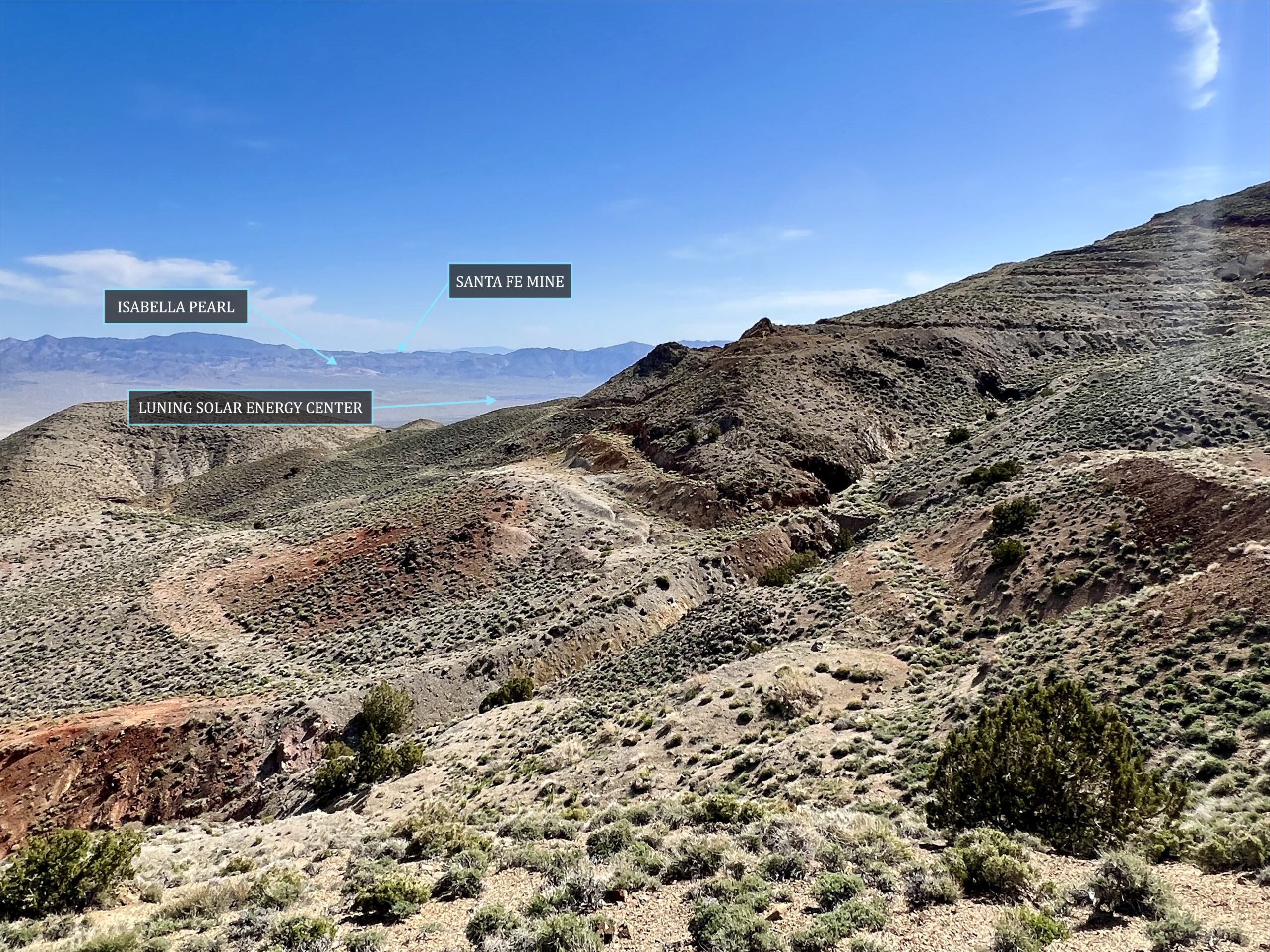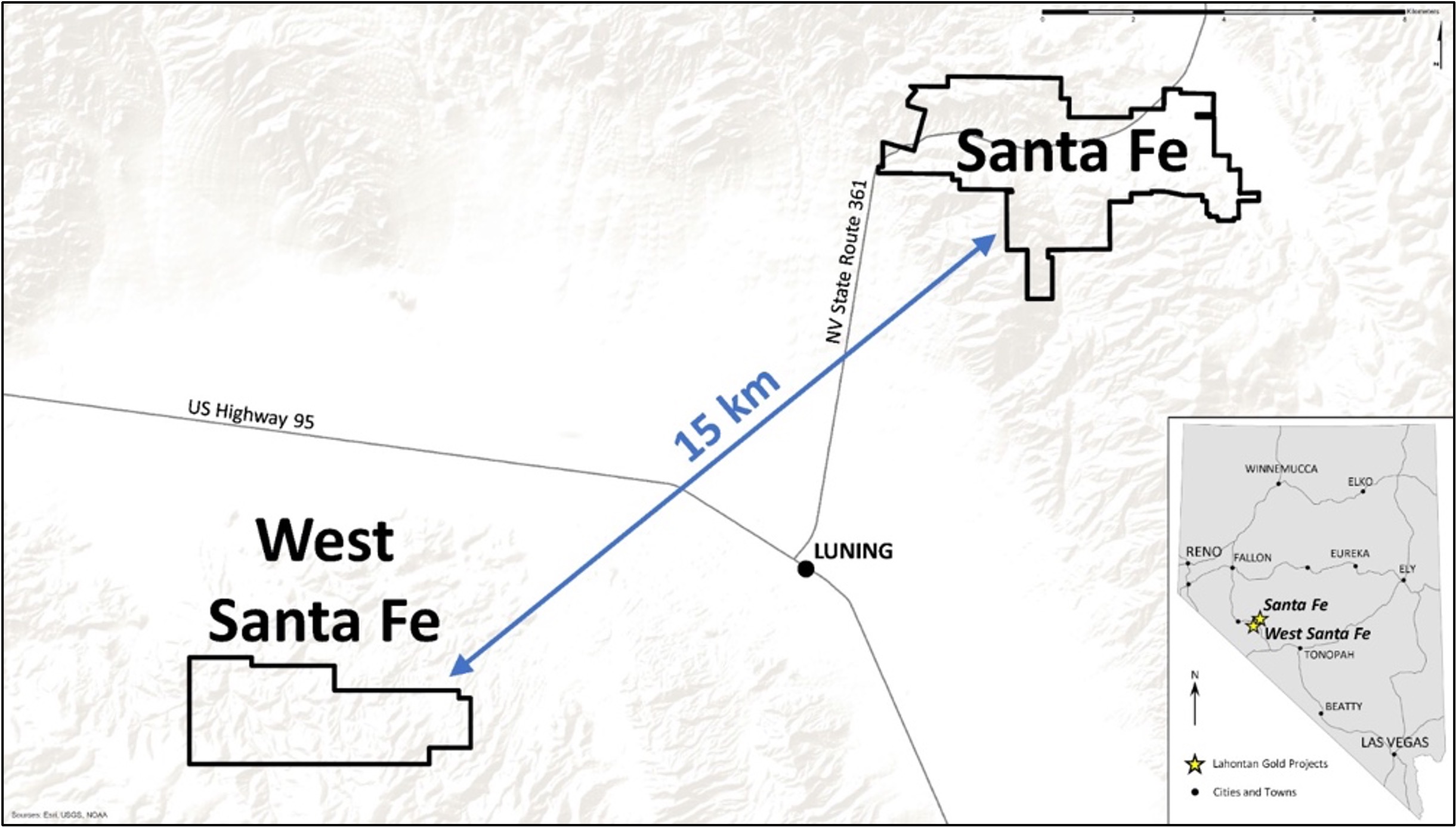 Gold and silver mineralization at West Santa Fe occurs as a sediment-hosted epithermal Au-Ag system hosted by Triassic age carbonate and volcanic rocks, a setting very similar to the Santa Fe Mine. Shallow gold and silver mineralization are localized to East-Northeast trending faults and offset by Northwest striking faults, a classic Walker Lane setting.  In addition to over 13,000 metres of drilling, previous exploration activity at West Santa Fe includes: Geophysical studies including IP and aerial magnetic surveys, geochemical surveys including over 1,250 soil samples, and detailed geologic mapping.
Modeling of the historical drill hole data by Lahontan geologists defines a continuous zone of gold and silver mineralization which extends from the surface down-rake to the East-Northeast.  Utilizing a 0.31 g/t gold mineralized shell defined by historical drill hole data, outlines a large continuously mineralized area at West Santa Fe that has the potential to host a significant gold and silver resource1 (please see diagram below).  Additional exploration drilling will be needed to define mineral resources and to validate the historical drill hole data base.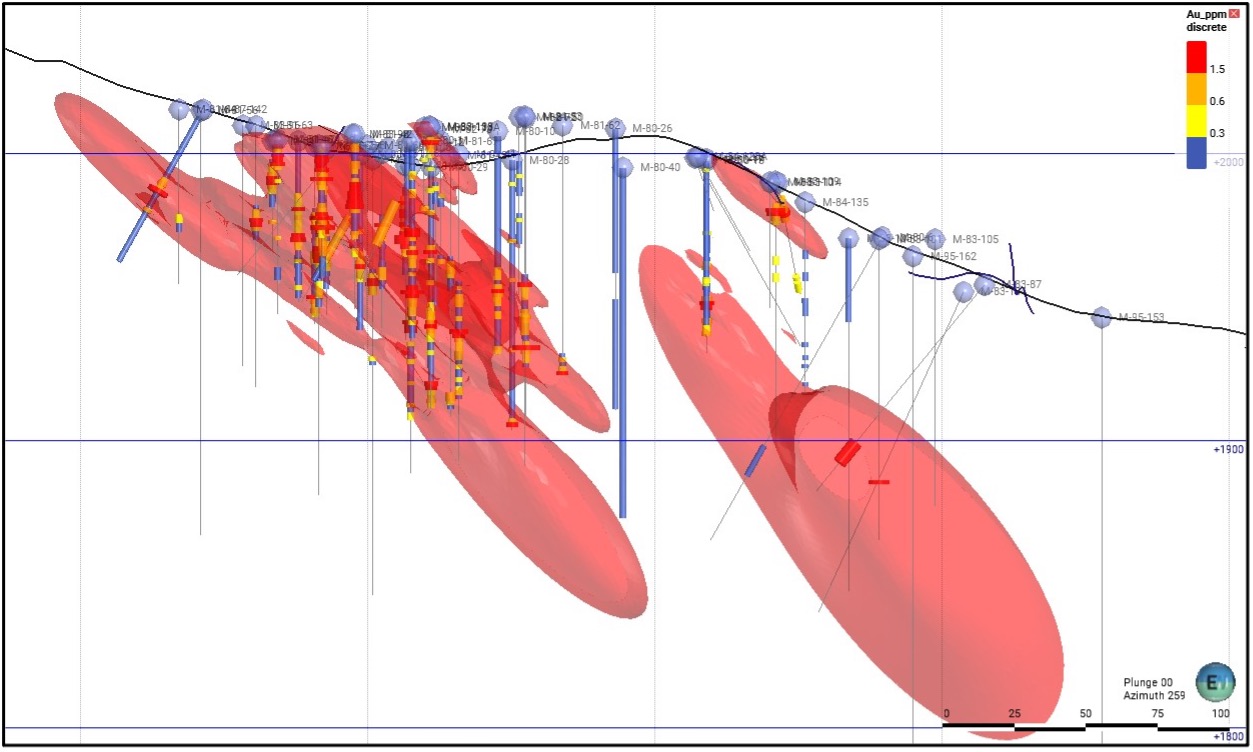 Simple representation of drill holes and gold-silver mineral potential at West Santa Fe. Cross section looks West-Southwest with South-Southwest to the left and North-Northeast to the right. Grade shell is 0.31 g/t Au and is continuous in the mineralized zones. Within the core of the mineralized area, grades exceed 1.5 g/t gold. Mineralization extends down-dip to the Northeast for several hundred metres where it remains open at depth and relatively shallow due to topography (please note scale).
Previous exploration drilling at West Santa Fe totals over 13,000 metres in 171 drill holes; only five holes are deeper than 165 metres.
Additional work includes: Geophysical studies including IP and aerial magnetic surveys, geochemical surveys including over 1,250 soil samples, and detailed geologic mapping. Au and Ag occurs as a sediment-hosted epithermal system hosted by Triassic age carbonate and volcanic rocks localized to East-Northeast trending faults